The Stallions of Fike Miniature Horses
CIRCLE S CADILLAC JACK
28" AMHA/AMHR Sorrel FRAME OVERO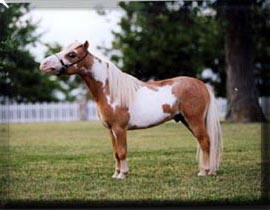 Sire is Bar L's Bright Beginning, 27"
Bay FRAME OVERO
Dam is Circle S Krystal Lite, 31 1/2" Black Pinto,
with generations of black and white behind her.
Jack is proof that you don't have to sacrifice QUALITY to have SMALL SIZE and GREAT COLOR. We will have foals by Jack available for sale in 2018.
---
REECES MR LUCKY HAWK
AMHA/AMHR - 29 1/2"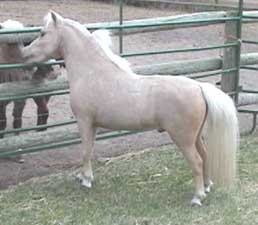 Palomino with wide blaze and blue eyes.
Tested to be positive for the LWO gene
Sire is 4 GS Little Kings Alfalfa Pleasure
Dam is Reeces Indian Melody
A beautiful and refined little stallion with pedigree to boot. In limited showing, was shown at the AMHA 2002 Eastern Championship Show and placed 3rd in the yearling stallions - 28" and under. We are looking forward to his 2004 foals.